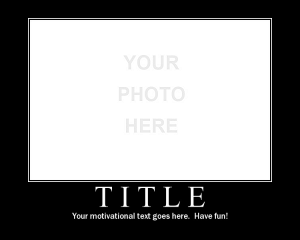 Greetings Bloggees,
Lulu and I would like to inform you that we are hosting an anime motivational poster contest! Please make your own motivational posters for 1 or more of these animes:
1. Ouran High School Host Club
2. Naruto
3. Sgt. Frog
4. Tsubasa Chronicle
5. Shugo Chara
6. Kaze no Stigma
7. Skip beat
8. Hetalia
9. Yotusuba&!
10. Cat god
11. Gosick
12. Princess Tutu
13. XXXHolic
14. Pokemon
If there are any inappropriate or offensive motivational posters, I shall personally find you and drag you to the pits of despair. Also, you will automatically be disqualified.
Please send your pictures to lulurabbitblog@yahoo.com.
Here are some links for where you can make your posters (you can also make them anywhere else):
The deadline to have your posters in is July 13th. You can submit up to 3 posters. Please also leave a name by which you would like your poster to be credited. Posters will be judged together by a group of people that have seen the anime above.